3 Things to Wear to your Beach Engagement [Men Edition]
This post may contain affiliate links and I may earn a small commission when you click on the links at no additional cost to you.
Choosing the right outfit for your beach engagement session in Honolulu is crucial for several reasons. First and foremost, your outfit helps set the tone and theme of the session. Whether you opt for a more casual look or something more formal, your choice will impact the overall feel and style of the photographs. Plus, wearing an outfit that reflects your personalities as a couple can add an extra personal touch to the images.
Additionally, selecting appropriate clothing is essential for ensuring comfort during your beach engagement session. The Hawaiian climate can be hot and humid at times, so it's important to choose breathable fabrics that won't make you feel overheated or restricted in movement. Opting for light-colored clothing can also help reflect sunlight and keep you cool while capturing those beautiful sunset shots on the beach.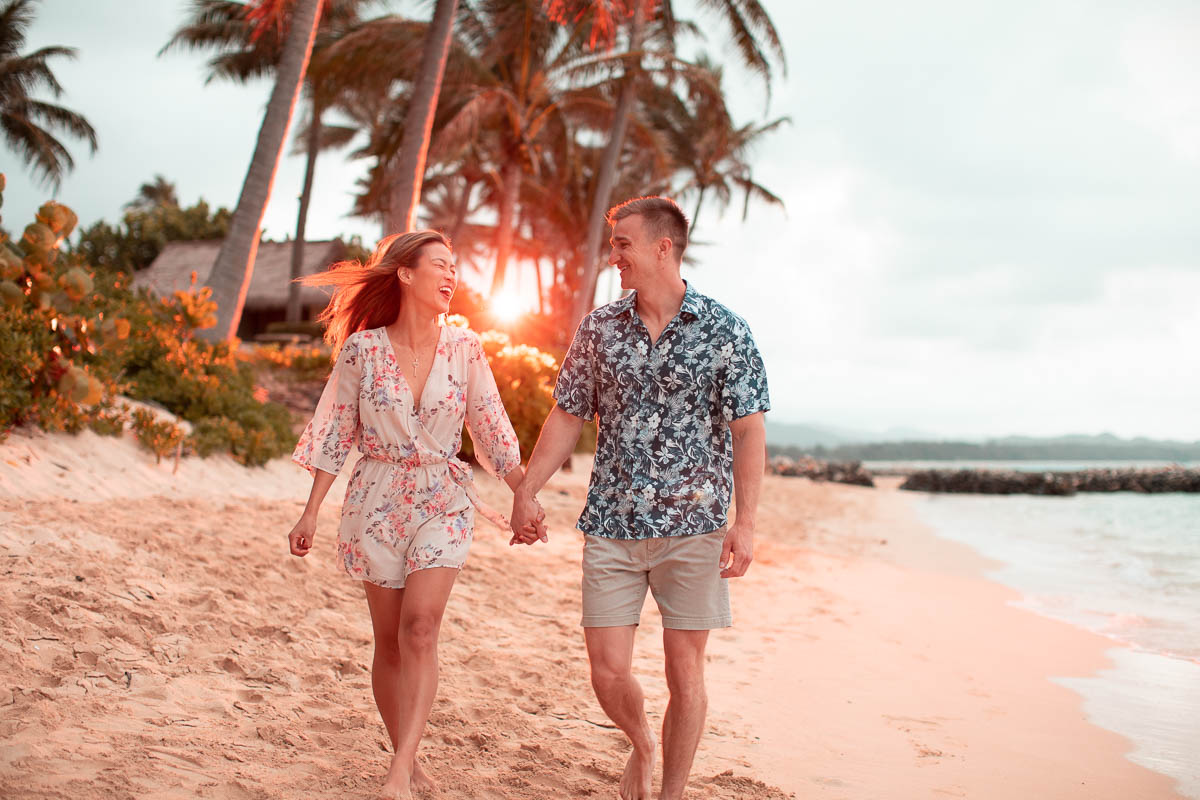 Comfortable yet stylish swimwear options.
One of the key factors to consider when choosing swimwear for your beach engagement session in Honolulu is finding options that are both comfortable and stylish. While comfort is important, especially if you'll be spending hours frolicking in the sun and surf, you also want to look your best on camera. Luckily, there are plenty of swimwear options that strike the perfect balance between comfort and style.
For those who prefer a classic look, a pair of mid-length boardshorts can be a great choice. They offer ample coverage while still allowing for freedom of movement, making them ideal for activities like swimming and playing beach volleyball. Look for boardshorts with fun patterns or vibrant colors to add a touch of personality to your outfit.
Another option worth considering is swim trunks with an elastic waistband. These provide ultimate comfort as they can easily adjust to your size without feeling too tight or restrictive. Opt for trunks made from quick-drying material so you won't have to worry about being uncomfortable after getting out of the water. Pair them with a lightweight linen shirt or a casual polo for a laid-back yet put-together ensemble.
Casual yet stylish: Optimal beach attire
When it comes to beach attire, striking the perfect balance between casual and stylish can be a challenge. However, with a few key pieces in your wardrobe, you can effortlessly achieve that optimal beach look for any occasion.
Firstly, opt for a pair of tailored swim shorts instead of the generic baggy board shorts. These will give you a sleek and refined look without sacrificing comfort. Pair them with a relaxed linen shirt or a lightweight button-down in a complementary color to add an element of sophistication to your ensemble.
Secondly, don't underestimate the power of accessories. A stylish straw hat not only adds an extra touch of charm but also protects you from the scorching sun rays. Complete your outfit with some stylish sunglasses and a leather bracelet for that effortless yet put-together vibe.
Lastly, when choosing footwear for the beach, espadrilles are an excellent choice as they strike the perfect balance between style and practicality. Go for neutral tones such as beige or navy blue to match any outfit while adding an air of refinement.
Light and breezy: Linen shirts and shorts
When it comes to dressing for a beach engagement session in Honolulu, it's essential to strike the perfect balance between style and comfort. Enter linen shirts and shorts – the epitome of lightness and breathability. Not only are they ideal for the tropical climate, but they also exude a laid-back elegance that is perfectly suited for capturing timeless memories.
Linen shirts provide an understated yet sophisticated look, effortlessly elevating your overall appearance. They boast a natural wrinkled texture that adds character while ensuring maximum airflow to keep you cool under the island sun. Pair them with linen shorts for a complete ensemble that not only looks great but feels fantastic too.
What sets linen apart from other fabrics is its ability to showcase effortless style without sacrificing practicality. It's no wonder why professionals recommend it so highly for beach-themed engagements: Linen's lightweight and breathable nature make it ideal, keeping you comfortable throughout your photoshoot experience without compromising on style. So embrace the relaxed charm of linen shirts and shorts as you stroll hand in hand along the pristine shores of Honolulu – trust us, these breezy ensembles will ensure you look picture-perfect while feeling completely at ease.
Hawaiian touch: Incorporating aloha prints
Note: Hawaiian shirts is not the correct word; it is Aloha Shirts/Prints. When it comes to capturing the essence of Hawaii in your beach engagement photos, incorporating aloha prints is a surefire way to do just that. These vibrant and playful patterns not only add a pop of color to your outfit but also exude a laid-back island vibe. Forget about the typical attire for beach sessions; instead, embrace the Hawaiian touch with aloha-printed shirts or shorts.
One great aspect of aloha prints is their versatility. For a more casual look, opt for a Hawaiian shirt featuring bold floral designs. Pair it with solid-colored shorts or chinos and some leather sandals for an effortless yet stylish appearance. If you want to dress up the print, try a tailored aloha-printed blazer over a crisp white shirt and trousers – this puts a sophisticated spin on this tropical trend.
Furthermore, don't be afraid to mix and match different prints within your outfit. Combining various aloha patterns can create an interesting visual effect and add depth to your overall look. Just remember to keep some elements cohesive by choosing colors that complement each other well.
Incorporating aloha prints into your beach engagement session attire allows you and your partner's personalities to shine through while embracing the spirit of Hawaii. Whether you go for something bold or subtle, these vibrant patterns will undoubtedly elevate your photos and add an element of fun and adventure to this special milestone in your life together. So don't hold back—embrace the Hawaiian touch with open arms!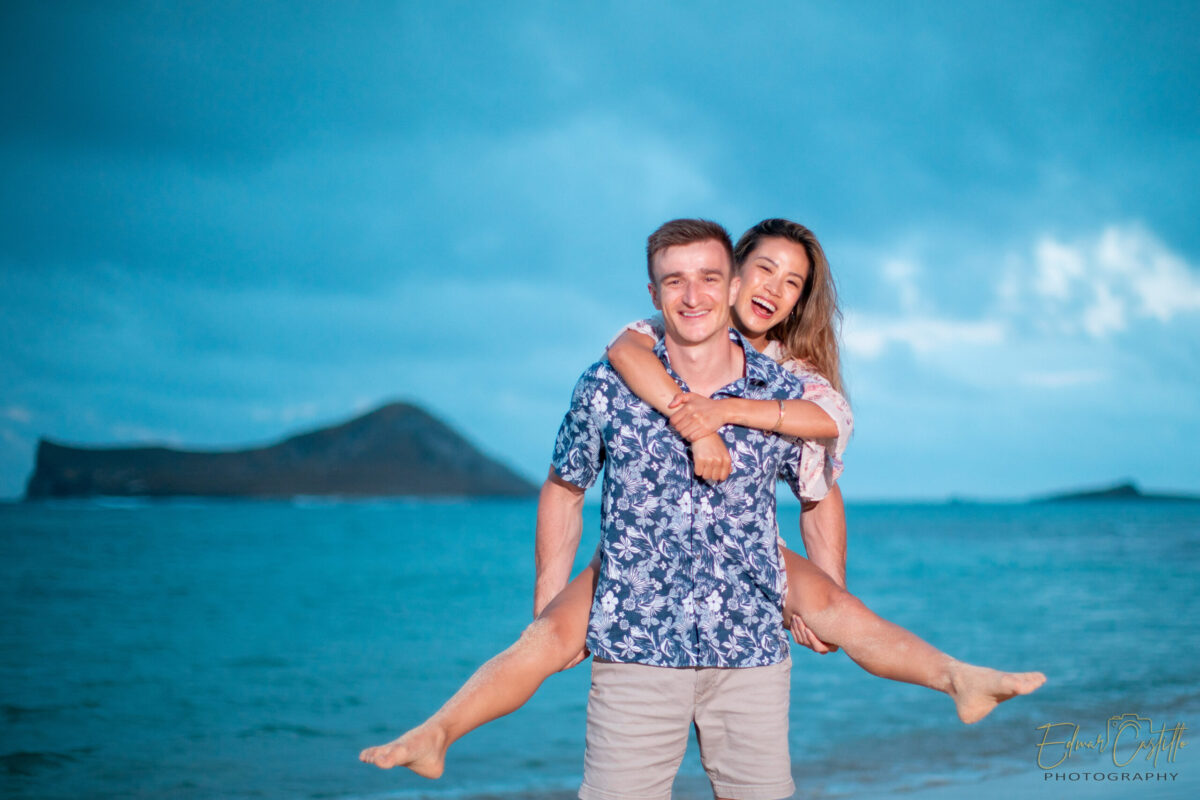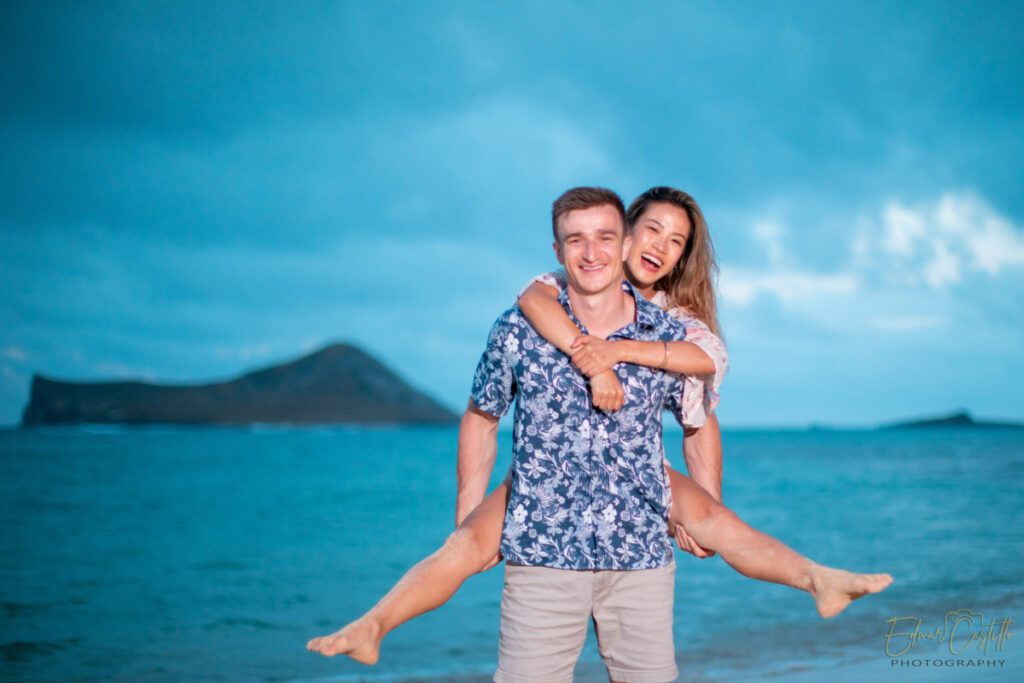 Footwear choices: Comfortable and fashionable options
One of the most important factors to consider when choosing footwear for your beach engagement session in Honolulu is comfort. The sandy beaches and warm weather can make it challenging to find a pair of shoes that won't leave you feeling hot and uncomfortable. Look for options that are lightweight, breathable, and have cushioning or support, such as sandals or slip-on sneakers. Not only will these types of shoes keep your feet comfortable throughout the day, but they will also allow you to move freely and enjoy the beautiful scenery without any discomfort.
While comfort is crucial, it doesn't mean you have to sacrifice style. There are plenty of fashionable options available that will complement your outfit and give you a stylish edge during your beach engagement session. Consider opting for trendy espadrilles or boat shoes in vibrant colors or patterns that match the tropical surroundings. These types of footwear will not only elevate your look but also add personality and flair to your overall appearance.
It's essential to strike a balance between comfort and fashion when selecting footwear for your beach engagement session in Honolulu. By choosing comfortable yet stylish options like lightweight sandals or trendy espadrilles, you'll not only feel great throughout the day but also look effortlessly fashionable in every photo taken on those stunning Hawaiian shores. Don't be afraid to express yourself through vibrant colors or unique patterns – after all, this is an exciting time in your life worth celebrating with confidence from head-to-toe!
My Pick
Tauhine Men's Beach Sandals, Quick Dry Flip-Flop Slides, Waterproof Full-Grain Leather & Wet Grip Soles, Soft Comfort Fit & Arch Support
Accessories that complement the beach setting
When it comes to planning your beach engagement session in Honolulu, it's not just about finding the perfect outfit. Accessories play a crucial role in elevating your look and complementing the beautiful beach setting. One accessory that can instantly add a touch of elegance to your ensemble is a classic straw hat. Not only does it protect you from the sun, but it also gives off that trendy, tropical vibe that is ideal for a beach photoshoot.
Another accessory that can enhance your beach look is a stylish pair of sunglasses. Opt for a sleek design that suits both your face shape and personal style. Not only will they shield your eyes from the bright sun, but they will also add an effortlessly cool touch to any outfit you choose.
Lastly, consider adding some statement jewelry to complete your beach-ready ensemble. Think colorful beaded bracelets or layered necklaces with seashell pendants. These small details can make a big impact and add an element of fun to your photos.
By paying attention to these small details and selecting accessories that complement the beach setting, you'll be sure to create stunning and memorable images during your engagement session in Honolulu. Don't be afraid to experiment with different combinations until you find the perfect accessories that showcase both your personality and style on this special occasion at the beach!
Tips to help men look their best at a beach engagement session in Honolulu.
When it comes to a beach engagement session in Honolulu, men have the perfect opportunity to showcase their style while embracing the laid-back Hawaiian vibe. Here are some tips to help you look your best on this memorable occasion.
Firstly, opt for lightweight and breathable fabrics to beat the heat. Linen or cotton shirts not only keep you cool but also add a touch of sophistication to your ensemble. Pair them with tailored shorts or chinos that complement your shirt color. Consider vibrant shades like turquoise or coral, which will contrast beautifully against the backdrop of white sand and crystal-clear waters.
Secondly, don't be afraid to accessorize! A stylish straw hat not only protects you from the sun's rays but also adds a touch of character to your overall look. Additionally, consider adding some statement accessories such as leather bracelets or wooden bead necklaces for an island-inspired flair.
Lastly, remember that footwear is just as important as the rest of your outfit. Opt for comfortable sandals or espadrilles that offer both style and practicality on sandy shores. For added pizzazz, choose neutral tones like tan or navy blue that go well with any beach-inspired ensemble.
By following these simple yet effective tips, you can ensure that you not only look dapper but also exude confidence during your beach engagement session in Honolulu. After all, when you feel good about how you look it translates into stunning photographs and an unforgettable experience for both you and your partner.
Get Started with your Love Story
Don't miss out on capturing your special day with stunning photographs! Limited slots available, so book your consultation now and secure the timeless memories you deserve. Contact us today to schedule a discussion with me before it's too late.