Wahiawa Botanical Garden for Wedding Ceremonies
Nestled in the heart of Oahu, Wahiawa Botanical Garden is a hidden gem that offers a picturesque wedding venue like no other. With its lush landscapes, vibrant flowers, and serene atmosphere, this botanical garden provides the perfect backdrop for a romantic and enchanting wedding. The variety of stunning photo opportunities available here is simply unrivaled.
One of the unique features of Wahiawa Botanical Garden is its diverse collection of tropical plants from all around the world. From delicate orchids to towering palm trees, this garden showcases the beauty and diversity of nature in one location. Imagine exchanging vows under a canopy of blooming flowers or taking unforgettable wedding portraits surrounded by exotic greenery – it's an experience that will be etched in your memories forever.
Another reason why Wahiawa Botanical Garden stands out as an ideal wedding venue is its peacefulness. Away from the bustling crowds and noise of urban life, this tranquil setting allows couples to have an intimate celebration with their loved ones. The calming sounds of birds chirping and leaves rustling in the breeze create a soothing ambiance that brings serenity to your special day.
Lush greenery and vibrant flowers
As a wedding photographer, I've had the privilege of capturing beautiful moments in some of the most breathtaking locations around the world. But there's something truly magical about weddings surrounded by lush greenery and vibrant flowers, which is why Wahiawa Botanical Garden in Hawaii is an absolute dream come true for couples wanting to tie the knot in paradise.
The garden boasts an incredible variety of plant life, with sprawling landscapes that seem straight out of a fairytale. From towering palm trees to cascading waterfalls hidden amongst ferns and tropical foliage, every corner offers a picturesque backdrop for your special day. And let's not forget about the vibrant flowers – from orchids in every color imaginable to fragrant hibiscus blooms, it's like stepping into a kaleidoscope of natural beauty.
One of my favorite aspects of photographing weddings at Wahiawa Botanical Garden is how different each season can be. In spring, delicate cherry blossoms blanket certain sections while vibrant azaleas burst with color nearby. Summer brings a riot of colors with blooming heliconias and bromeliads stealing the show. And as autumn rolls around, you'll find yourself surrounded by golden hues as the leaves change on trees such as maple and ginkgo.
Whether it's an intimate elopement or a grand celebration with hundreds of guests, Wahiawa Botanical Garden provides endless opportunities for stunning photography backdrops.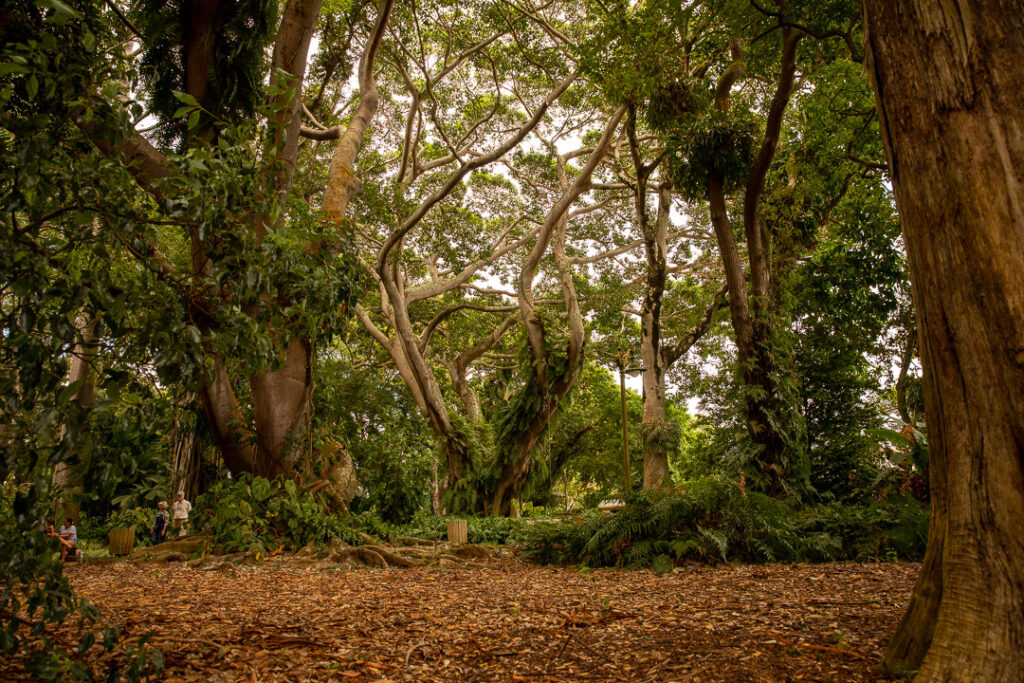 Guidelines for Hosting Wedding Ceremony at Wahiawa Botanical Garden
Wedding Permits are required for all wedding ceremonies. Complete the Wedding Permit Application (PDF)

Indicate on your application a specific location to host your Wedding at Wahiawa Botanical Garden.
A separate Photography Permit (PDF) must be secured by Professional Photographer
Use of Wedding is restricted to the Upper Terrance (Map)

Use of Drones in the garden is prohibited.
Allows up to 30 attendees in Wedding party (including couple, photographer, and officiant)
Wedding Permit applications and Photography Permit applications must be filed at least three (3) weeks in advance.
All permittee must observe garden hours. The gardens are open daily, except Christmas and New Year's Day. Call Wahiawa's Botanical Garden for hours of updated operation.
Permitted parties shall not restrict or prohibit other visitor use of the gardens.
Garden facilities and plantings may not be abused by any person. Collecting of flowers, leaves, or plants are not permissible. Neither is throwing flowers, plants, or rice during ceremony.
Parking is limited.
Insect repellent and appropriate footwear is advised.
Alcoholic beverage, receptions, confetti, and rice throwing is prohibited.
Musical instruments and sound amplification are prohibited unless authorized by the permit.
Physical amenities such as tents, chairs, tables, etc are prohibited unless authorized by permit.
Permits issued by the staff shall be subject to the regulations of the Department of Parks and Recreation (DPR) and the City and County of Honolulu Revised Ordinances (HRO).
The Department of Parks and Recreation, City and County of Honolulu, is committed to making its programs and services accessible to everyone, including persons with disabilities. If you have a need for reasonable modifications, please call the agency at 808-768-7135.
All permittee must end their permit at 3:30PM to facilitate time to exit by 4:00PM
Procedures in securing your wedding/elopement venue at Wahiawa's Botanical Garden
Contact 808-768-7135 or 808-621-5463 and inquire availability from Wahiawa Botanical Garden at least three (3) weeks prior to your wedding event.

The operating hours are from Monday – Friday 8AM to 4PM HST

Complete the Wedding Permit (PDF)
Submit the completed form by either:
Notify your Professional Photographer and/or Videographer to submit their Photography Permit at least three (3) weeks prior (PDF)

The Photographer and/or Videographer must have their respective Certificate of Insurance (COI) filed with the City and County of Honolulu – Department of Parks and Recreation office as well with the required language. (For more information, click here)

Await for confirmation
Want bland photographers?
I didn't think so
Let's connect and make your wedding experience in Honolulu, Oahu (Hawaii) an experience for you all.