Ho'omaluhia Botanical Garden – A Hidden Paradise
Nestled amongst the lush rainforests of Oahu, the Ho'omaluhia Botanical Garden is nothing short of a hidden paradise. Its name, which translates to make a place of peace and tranquility, couldn't be more fitting for this breathtaking slice of nature. As you step into its grounds, you are immediately transported into a world that seems far removed from the bustling city life just outside its gates. The vibrant colors of tropical flowers make it an idyllic location for couples seeking an intimate wedding venue/elopement.
What sets Ho'omaluhia Botanical Garden apart from other wedding venues is its unique blend of natural beauty and cultural significance. The garden not only showcases over 400 acres brimming with diverse plant species but also features traditional Hawaiian gardens that pay homage to the indigenous culture. From ancient taro patches to sacred fishponds, these cultural elements add depth and meaning to any wedding ceremony held here. Imagine exchanging vows under the graceful shade of a towering monkeypod tree, with the gentle breeze carrying whispers of past traditions through your ears.
The serenity found at Ho'omaluhia Botanical Garden creates an atmosphere that goes beyond picture-perfect backdrops. It represents sanctuary; where love can flourish amidst nature's embrace and where time slows down in reverence for your special day.
Why Ho'omaluhia is Perfect for Elopements
Ho'omaluhia Botanical Garden is a paradise nestled in the heart of Kaneohe, Hawaii. With its lush greenery, serene lakes, and stunning mountain views, it provides the perfect backdrop for an intimate elopement ceremony. The garden's tranquil atmosphere creates a sense of privacy and serenity that is ideal for couples looking to exchange their vows in a peaceful setting.
One of the main reasons why Ho'omaluhia is perfect for elopements is its sheer beauty. The garden boasts an impressive variety of plant species from around the world, each displaying unique colors and textures. Imagine exchanging your vows under a canopy of vibrant flowers – these magical moments will be forever etched into your memories.
Tip
Drones are not allowed on the premises
Furthermore, the garden offers countless romantic spots where you can declare your love for one another. From hidden pathways lined with blooming bushes to secluded gazebos overlooking shimmering ponds, there are plenty of enchanting locations to choose from. With so much natural beauty surrounding you, every photo taken on this special day will be like a work of art.
Overall, Ho'omaluhia Botanical Garden is more than just a wedding venue; it's an experience that encapsulates the natural wonder and tranquility of Hawaii. Whether you dream of saying I do surrounded by tropical foliage or want to capture breathtaking photos against the backdrop of majestic mountains, this botanical paradise has everything you need for an unforgettable elopement ceremony.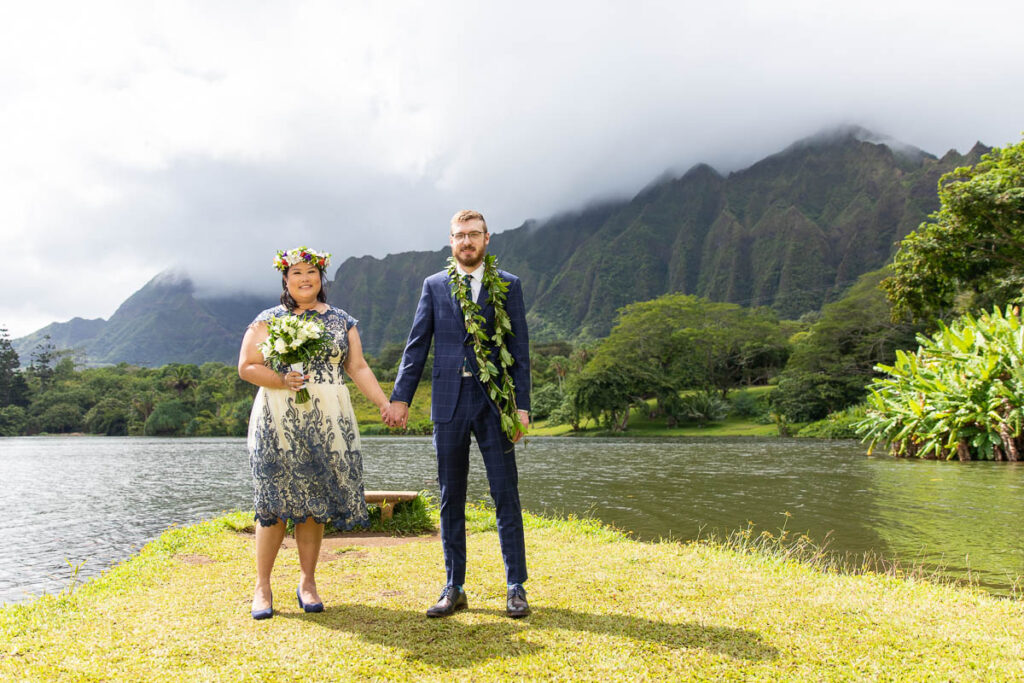 The Stunning Beauty of the Garden
Nestled in the heart of Hawaii, Ho'omaluhia Botanical Garden offers a breathtaking escape into nature's enchanting beauty. As you step foot into this lush oasis, your senses are immediately awakened by the vibrant colors and sweet aroma that fills the air. Every path you wander down reveals a new hidden gem, from vibrant flower beds bursting with life to serene ponds reflecting the surrounding mountain peaks. With over 400 acres of meticulously manicured gardens, this botanical paradise truly stuns visitors with its captivating sights at every turn.
Refer to Importance of Photography Permits when applying at various government-administered sites

Edmar Castillo Photography
One of the most remarkable features of Ho'omaluhia Botanical Garden is its diverse collection of plant species from around the world. As you explore these stunning grounds, you'll be transported to different corners of the globe, surrounded by exotic flora and fauna. From towering palm trees swaying gently in the breeze to delicate orchids displaying their intricate patterns, there is no shortage of awe-inspiring beauty here. The garden serves as a living testament to nature's creativity and provides an ideal backdrop for couples seeking a dreamy wedding venue elopement.
Beyond its visual appeal, Ho'omaluhia Botanical Garden also offers an auditory retreat like no other. As you wander through its winding trails, you'll be serenaded by the chirping birdsong that fills the air.
Tip
Privacy and Intimacy for Your Special Day
Privacy and intimacy are often overlooked aspects of a wedding, but they can truly elevate your special day to a whole new level. When you choose a venue like the Ho'omaluhia Botanical Garden for your elopement, you ensure that these elements remain at the forefront. With its beautifully secluded landscapes and abundance of natural beauty, this garden provides an intimate setting that allows you to truly connect with each other and the surroundings.
Imagine exchanging your vows under a romantic lake surrounded by lush greenery or by a tranquil lagoon with only nature as witness. There is something truly magical about having privacy on such an important day in your lives, where you can freely express all the emotions that come with starting this new chapter together. Without any distractions or prying eyes, you can fully immerse yourselves in the moment and create memories that will last a lifetime.
Furthermore, privacy and intimacy also allow for genuine moments of connection between you and your partner. Instead of constant noise and interruptions, being able to steal away for some quiet moments together becomes invaluable. Whether it's stealing kisses between blooms or walking hand-in-hand along charming pathways, Ho'omaluhia Botanical Garden provides ample opportunities for these stolen moments of bliss on your wedding day.
So why settle for anything less when it comes to privacy and intimacy? Choose Ho'omaluhia Botanical Garden as your wedding venue elopement destination – where love blossoms amidst serenity and seclusion.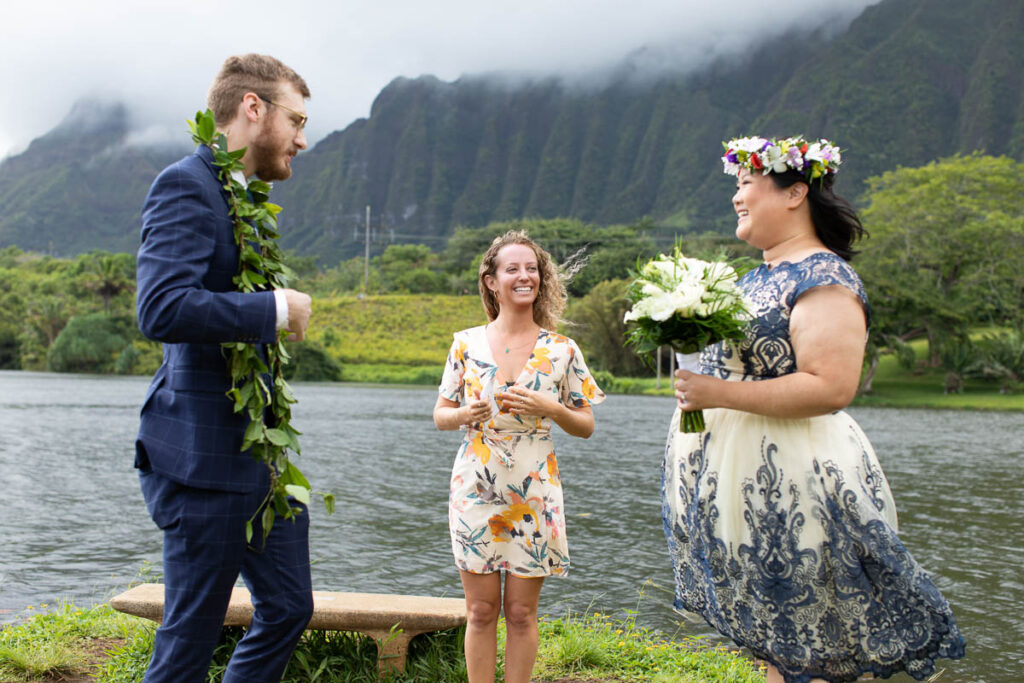 Practical Considerations: Logistics and Amenities
There is no cost to have a wedding at Ho'omaluhia Botanical Garden. However, please note that you must file a Wedding Permit at least three (3) weeks in advance. In addition, only the wedding ceremony can be held within a 2-hour time slot, and all park rules must be followed. The hours to hold the wedding ceremony must be between 9:30AM-3:30PM HST.
When considering a wedding venue for your elopement, it's important not to overlook the practical considerations of logistics and amenities. Ho'omaluhia Botanical Garden, located on the stunning island of Oahu in Hawaii, offers a range of services and facilities that make it an ideal choice for couples looking for both natural beauty and convenience.
One key practical consideration is transportation. The garden provides ample parking space, making it easy for you and your guests to arrive without any hassle. Additionally, if you're planning on having a small group fly in from out of town, there are several nearby hotels that can accommodate your guests while providing a comfortable stay with convenient access to the venue.
Another important aspect to consider is amenities. Ho'omaluhia Botanical Garden boasts well-maintained restroom facilities throughout the premises, ensuring your guests' comfort during their time at your elopement ceremony. The garden also offers picnic areas where you can have a post-ceremony celebration or enjoy an intimate meal with loved ones amidst the stunning surroundings.
Overall, when choosing a wedding venue like Ho'omaluhia Botanical Garden for your elopement, taking into account logistics and amenities will ensure a smooth and pleasant experience for both you and your guests. With its convenient location and excellent facilities, this beautiful garden provides everything necessary for an unforgettable celebration of love in paradise.
Guideline to Hosting a Wedding Event at Ho'omaluhia Botanical Garden
Wedding Permits are required for all wedding ceremonies. Complete Application and Permit for Use of Ho'omaluhia Facilities Wedding Permit (PDF)

Your Wedding Permit application requires you name a specific location at the Ho'omaluhia Botanical Garden. Use the maps below to choose the areas and input into your application:
A separate Photography Permit (PDF) must be secured by Professional Photographer

Use of Drones in the garden is prohibited
No photography on roadways including the road in entrance gate of the garden.
Allows 50 people (including photographer, officiant, newlyweds)
Permit applications shall be filed at least three weeks in advance.
All permittee must observe garden hours. The gardens are open daily, except Christmas and New Year's Day. Call Ho'omaluhia Botanical Garden (808) 233-7323 for hours of operation.
Permitted parties shall not restrict or prohibit other visitor use of the gardens.
Garden facilities and plantings may not be abused by any person. Collecting of flowers, leaves, or plants is not permissible.
Parking is limited; carpooling is advised. Parking along roadsides, loading zones, and driveways is prohibited.
Use of insect repellent and appropriate footwear is advised.
Alcoholic beverage, receptions, confetti, and rice throwing is prohibited.
Musical instruments and sound amplification are prohibited unless authorized by the permit.
Physical amenities such as tents, chairs, tables, etc. are prohibited unless authorized by the permit.
Commercial photography/video requires a separate permit application.
Permits issued by the Ho'omaluhia Botanical Gardens shall be subject to the regulations of the Department of Parks and Recreation (DPR) and the City and County of Honolulu Revised Ordinances (HRO).
All persons, teams, or organizations, to whom permits are issued are liable for loss, damage, or injury to persons or property resulting from the use of the public facilities under such permits. Any damage to grounds or facilities must be fully restored.
The Department of Parks and Recreation, City and County of Honolulu, is committed to making its programs and services accessible to everyone, including persons with disabilities. If you have need for reasonable modifications, please call the agency at (808) 233-7323.
All permittee must end their permit at 3:30 p.m. to facilitate time to exit by 4:00 p.m.
Procedures in securing your wedding/elopement venue at Ho'omaluhia
Contact (808) 233-7323 and inquire availability from Ho'omaluhia Botanical Garden at least three (3) weeks prior to your wedding event.

The operating hours are from Monday – Friday 8AM to 4PM HST.

Complete the Wedding Permit

Application and Permit for Use of Ho'omaluhia Facilities

(PDF)
Determine the area of the property you wish to secure for your event using the maps below for your application
Submit the completed form by either:
Notify your Professional Photographer and/or Videographer to submit their Photography Permit

Application Park Facility Use

at least three (3) weeks prior (PDF)

The Photographer and/or Videographer must have their respective Certificate of Insurance (COI) filed with the City and County of Honolulu – Department of Parks and Recreation office as well with the required language. (For more information, click here)

Await for confirmation
Conclusion: Create a Magical Wedding Experience
In conclusion, choosing Ho'omaluhia Botanical Garden as your wedding venue elopement will truly create a magical experience that you and your partner will remember for a lifetime. With its breathtaking natural beauty, serene atmosphere, and lush surroundings, this botanical garden offers the perfect backdrop for an intimate and romantic celebration. The garden's diverse plant life and tranquil waterfront provide countless opportunities for stunning photos that capture the essence of your special day.
Additionally, Ho'omaluhia Botanical Garden offers various amenities and facilities that ensure a seamless event. From ample parking to well-maintained pavilions and picnic areas, everything is thoughtfully arranged to accommodate your needs. The friendly staff at the garden also go above and beyond to make couples feel welcome, helping with any arrangements or concerns they may have.
What sets Ho'omaluhia Botanical Garden apart as an exceptional wedding venue elopement is not just its physical attributes but also the sense of tranquility it evokes. By immersing yourself in nature's embrace on this important day, you invite a deep connection with each other and with the surrounding environment. This creates an unparalleled experience where love flourishes amidst the enchanting sights and sounds of Hawaiian flora. Your wedding at Ho'omaluhia Botanical Garden will be more than just an event; it will be a true celebration of love in one of nature's most captivating settings.
Want bland photographers?
Didn't think so, let's talk
Capture the magic of your special day with my expert photography services. Don't miss out on preserving these precious memories – book your wedding/elopement session in Honolulu today. Limited availability, secure your spot now and etch these beautiful moments forever.