Why Fosters Botanical Garden is the Ideal Wedding Venue in Hawaii
Nestled in the heart of Oahu's lush landscape, Foster Botanical Garden is not only a treasure trove of natural beauty but also an idyllic wedding venue that captures the essence of Hawaii. With its breathtaking garden spaces, tranquil water features, and diverse array of plant life, this botanical haven offers a picturesque backdrop for couples seeking an unforgettable wedding experience.
Imagine yourself and your partner exchanging vows under a canopy of blooming orchids or saying "I do" surrounded by the fragrance of tropical flowers like plumeria and hibiscus. The garden's manicured lawns provide ample space for both intimate ceremonies and grand celebrations. Hosting an intimate elopement/wedding ceremony at Fosters Botanical Garden can cater to your ideal wedding.
In addition to its stunning natural beauty, Fosters Botanical Garden is conveniently located near some of Hawaii's most renowned attractions. Guests can drive explore nearby sites such as Pearl Harbor or take a leisurely stroll through Honolulu's vibrant Chinatown before attending your reception. With easy access to accommodations and transportation options, you'll ensure that your loved ones have an unforgettable vacation in paradise while celebrating your special day at Foster Botanical Garden.
Overview of Fosters Botanical Garden
With its lush greenery, vibrant blooms, and breathtaking landscapes, Fosters Botanical Garden is a hidden gem nestled in the heart of Hawaii. This enchanting paradise serves as an idyllic backdrop for weddings, encompassing over 14 acres of meticulously manicured gardens. From the moment you step foot onto this tranquil oasis, you are transported into a world of natural beauty that will leave you in awe.
One of the most alluring features of Fosters Botanical Garden is its wide variety of plant species from across the globe. As you wander through its winding paths, you will encounter exotic plants from Asia, Africa, and the Americas. The garden also boasts an extensive collection of palm trees that sway gently in the breeze, providing a perfect spot for romantic ceremonies or intimate wedding receptions.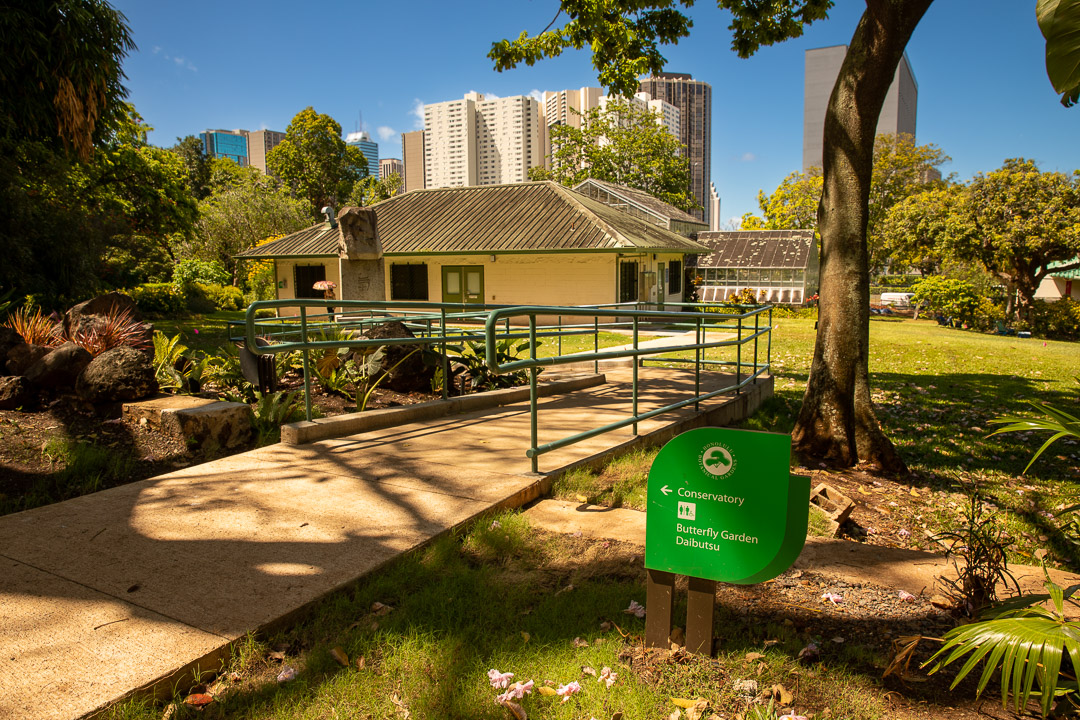 Another remarkable aspect worth mentioning is Fosters Botanical Garden's commitment to conservation and education. The garden not only serves as a sanctuary for rare and endangered plants but also provides educational programs to promote environmental awareness. By choosing this venue for your wedding destination, you are not only celebrating your love but also supporting their noble cause.
Fosters Botanical Garden offers couples an extraordinary setting to exchange vows and begin their journey together. You can enter the greenhouse Its harmonious blend of captivating plant life and serene surroundings creates an ethereal atmosphere that cannot be replicated elsewhere.
Stunning natural beauty and lush surroundings
Nestled in the heart of Hawaii, Foster's Botanical Garden is a treasure trove of stunning natural beauty and lush surroundings. As you step into the garden, you are instantly transported to a world where vibrant flowers bloom year-round and majestic trees create a canopy of shade. The sights and sounds of nature surround you, providing the perfect backdrop for your dream wedding.
One of the most enchanting aspects of Foster's Botanical Garden is its diverse range of flora. From exotic orchids and colorful hibiscus to delicate ferns and towering palm trees, every corner of the garden offers a new surprise. Imagine exchanging vows under a blossoming archway entwined with fragrant jasmine or saying "I do" surrounded by an array of tropical flowers that paint a vivid canvas against nature's green backdrop.
Not only does Foster's Botanical Garden provide captivating visuals, but it also creates an ambiance that is incredibly calming and serene. The gentle rustling leaves, melodious songs of birds, and soothing trickling water from fountains provide a peaceful symphony that adds an ethereal touch to your special day. Plus, being embraced by the beauty of nature can have rejuvenating effects on both mind and soul – ensuring that your wedding experience is not only magical but also deeply meaningful.
Gazebo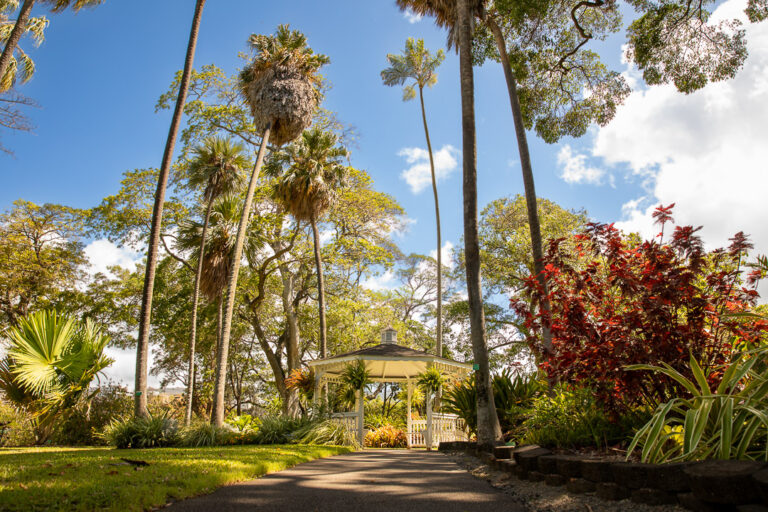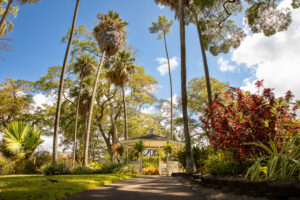 The gazebo is built in memory of Richard C. Tongg, FASLA (Fellow of the American Society of Landscape Architects). Hawaii's first landscape architect of Chinese ancestry.
Orchid Conservatory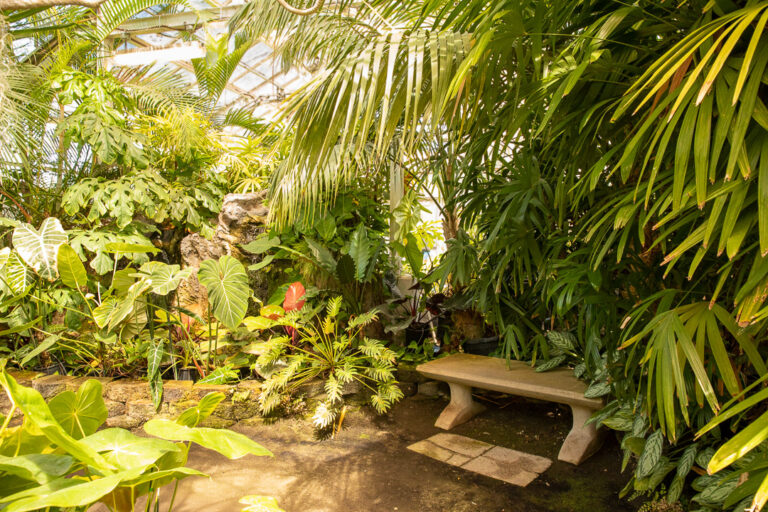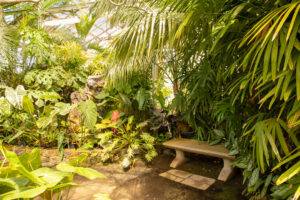 Hawaii's oldest botanical garden showcases exotic orchids in several areas of its 13.5 acre (5.5 hectare) grounds. Brilliant orchid colors and bizarre flower shapes abound at Foster.
Click on the orange markers above for an interactive description.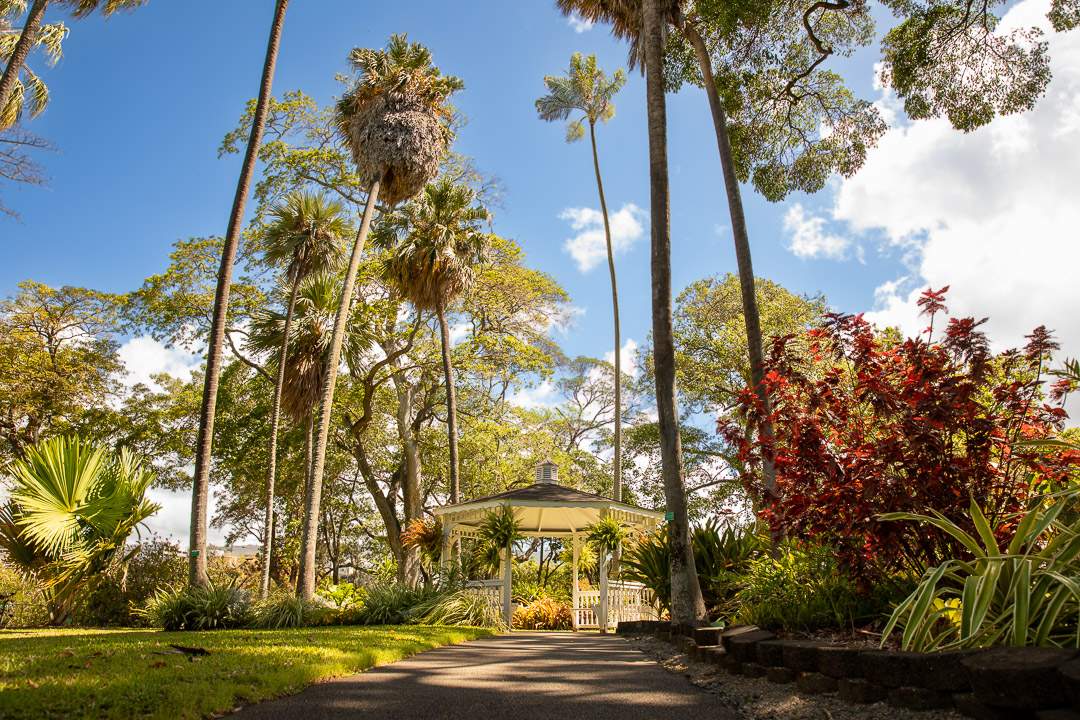 Abundance of vibrant flora for stunning photos
One of the standout features of Fosters Botanical Garden that make it an ideal location for weddings in Hawaii is its abundance of vibrant flora. From exotic tropical flowers to towering palms, the garden offers a picturesque backdrop for stunning wedding photos.
Endless varieties of blossoming plants and trees can be found throughout the garden, ensuring a tapestry of colors all year round. Whether you're planning a spring or summer wedding, when the garden bursts with vibrant blooms, or opting for a winter ceremony amid lush greenery, Fosters Botanical Garden promises to create enchanting visuals that will leave guests in awe.
Imagine saying your vows under the cascading canopy of bright yellow hibiscus flowers or posing for romantic portraits next to fragrant plumeria trees laden with delicate white blossoms. The beauty and diversity of the flora at Fosters Botanical Garden offer countless opportunities for unique and memorable wedding photos. Capture moments amidst gentle arches formed by trailing bougainvillea vines or embrace on rustic stone pathways enveloped by colorful orchids – the possibilities are endless.
With each season bringing new blooms and foliage, couples can have assurance that their photo album will be filled with an array of stunning shots showcasing nature's beauty in all its glory. From bold reds to soft pinks and striking purples, every corner of the garden is teeming with life. The contrast between deep green leaves and vividly colored petals adds depth and vibrancy to photographs.
Tip
There is no shortage of beautiful backdrop in Foster's Botanical Garden, whether for your wedding, engagement, or simply a date.
Guidelines for Hosting Wedding Ceremony at Fosters Botanical Garden
Wedding Permits are required for all wedding ceremonies. Complete the Wedding Permit Application (PDF)

Indicate on your application a specific location to host your Wedding at Fosters Botanical Garden. Use the map below to choose the area and input into your application
A separate Photography Permit (PDF) must be secured by Professional Photographer

Admission Price: This also applies to wedding attendees and permittee. However there are no time limits to use of the garden.

Adults: $5
Children 6-12: $1

Use of Drones in the garden is prohibited.
Allows up to 50 attendees in Wedding party (including couple, photographer, and officiant)
Wedding Permit applications and Photography Permit applications must be filed at least three (3) weeks in advance.
All permittee must observe garden hours. The gardens are open daily, except Christmas and New Year's Day. Call Foster's Botanical Garden for hours of updated operation.
Permitted parties shall not restrict or prohibit other visitor use of the gardens.
Garden facilities and plantings may not be abused by any person. Collecting of flowers, leaves, or plants are not permissible. Neither is throwing flowers, plants, or rice during ceremony.
Parking is limited.
Insect repellent and appropriate footwear is advised.
Alcoholic beverage, receptions, confetti, and rice throwing is prohibited.
Musical instruments and sound amplification are prohibited unless authorized by the permit.
Physical amenities such as tents, chairs, tables, etc are prohibited unless authorized by permit.
Permits issued by the staff shall be subject to the regulations of the Department of Parks and Recreation (DPR) and the City and County of Honolulu Revised Ordinances (HRO).
The Department of Parks and Recreation, City and County of Honolulu, is committed to making its programs and services accessible to everyone, including persons with disabilities. If you have a need for reasonable modifications, please call the agency at 808-768-7135.
All permittee must end their permit at 3:30PM to facilitate time to exit by 4:00PM
Procedures in securing your wedding/elopement venue at Foster's Botanical Garden
Contact 808-768-7135 and inquire availability from Foster's Botanical Garden at least three (3) weeks prior to your wedding event.

The operating hours are from Monday – Friday 8AM to 4PM HST

Complete the Wedding Permit (PDF)
Determine the area of the property you wish to secure for your event using the map above
Submit the completed form by either:
Notify your Professional Photographer and/or Videographer to submit their Photography Permit at least three (3) weeks prior (PDF)

The Photographer and/or Videographer must have their respective Certificate of Insurance (COI) filed with the City and County of Honolulu – Department of Parks and Recreation office as well with the required language. (For more information, click here)

Await for confirmation
Tip
The best season to host a wedding at the Foster's Botanical Garden is spring time because flowers typically bloom in the spring time and you'll be flooded with bright, vibrant flowers in the morning.
Conclusion: Make your dream Hawaiian wedding a reality at Fosters Botanical Garden.
With its lush greenery, vibrant flora, and serene atmosphere, Fosters Botanical Garden is truly a paradise for couples looking to have their dream Hawaiian wedding. As we come to the conclusion of this article, it is clear that Fosters Botanical Garden offers a unique and enchanting setting for couples who want to exchange vows amidst nature's beauty.
Imagine walking down the aisle under a canopy of blooming flowers, with the gentle breeze whispering through the palm trees. The garden's picturesque landscapes provide an idyllic backdrop for not only your wedding ceremony but also for capturing breathtaking photographs that will be cherished forever. Fosters Botanical Garden ensures that every detail is taken care of – from meticulously maintained paths and seating areas to stunning floral arrangements that complement your chosen theme or color scheme.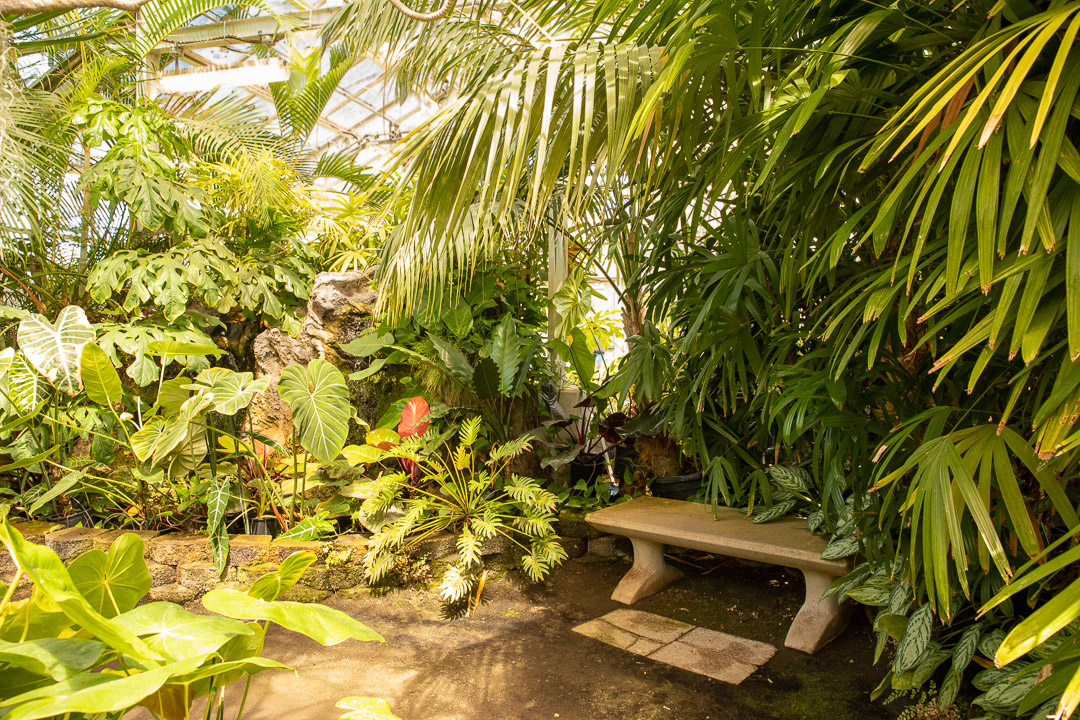 Furthermore, Fosters Botanical Garden offers versatile options to suit different preferences and budget constraints. Whether you desire an intimate gathering in one of the garden's secluded corners or a grand celebration in their spacious event areas, there are various locations within the garden that can be tailored to your specific needs. Additions such as live music performances or gourmet catering can elevate your special day even further.
In conclusion, if you have always dreamed of having a Hawaiian wedding surrounded by natural beauty and tranquility, look no further than Fosters Botanical Garden. This hidden gem in Hawaii offers couples an enchanting setting where their love can flourish amidst captivating blooms and lush foliage.
Premier Wedding Photography Service
With years of experience, a keen eye for detail, and accredited by Professional Photographers of America (PPA), let me bring a unique artistic touch to photographing your special day.